UKAF ACO Chairman Capt. Christian Nicholson has completed a remarkable run, alongside four other colleagues, taking him from London to Paris in four days!
Christian, who with Jake Hall, Nic Usher, Sally Howard and Joanna Newton – collectively known as the Sangfroid Serpents – signed up for the challenge back in 2020 but, due to the pandemic, were halted in their progress.  However, two years on and the famous five finally got the green light and off they went on their four day trek, heading south to Dover, catching the ferry and then hitting the French roads to the Eiffel Tower landmark.
The group, who were raising money for Parkinson's UK and SSAFA, crossed the finishing line earlier today (Monday 30 May) and the exhausted Scotsman was a relieved man!
"I wanted to publicly say a HUGE thank you to all the amazing donations in support of my madness.  The support genuinely kept me going when quads, hamstrings and even my mental state were screaming otherwise!
"It was a tough challenge but an amazing one and I'm so proud of my team and to have been a part of a great group of resilient, tough and selfless people.  But, right now, it is a ferry home and then a LOT of sleep!"
Many congratulations Christian – a truly incredible effort by you and your intrepid crew.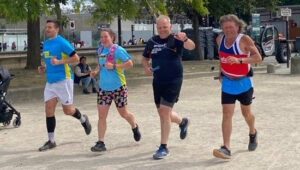 You can still sponsor Christian at his support page below ….
YOU CAN STILL SPONSOR CHRISTIAN HERE!